PALLET COLLARS
Pallet collars have become an effective substitute for rigid crating, wooden boxes and containers of various types. They are the ideal solution for transportation and storage of valuable, fragile, or breakable products of all kinds. This type of packaging provides product protection and increased storage capacity, and is an environmentally friendly packaging that will last for up to 10 years.
PERFECT FIT
To ensure that your cargo is properly protected during transportation and storage, KRONUS offers both standard and non-standard sized pallet collars, with customizable side lengths from 300 – 3500 mm and heights from 100 – 400 mm.
600 х 800
800 х 1200
1000 х 1200
Custom size
ENGINEERING SOLUTIONS
We offer complex engineering of pallets, pallet collars, and lids according to the your specifications, without a negative effect on product quality and durability. Additionally, we constantly develop our product portfolio and are able to provide our customers with custom-made products, that ensure extra protection of your valuable cargo.
PERSONALISATION & BRANDING
To help you more easily identify, track, and control goods in the warehouse and while transportation – we offer to paint the pallet collar parts and stamp on your company's LOGO. Different color options available by request.
Hinge color:
Box color:
Trademark:
Order KRONUS pallet collars
Discover the efficiency of pallet collars. Contact our wooden packaging experts to find the best solutions, customized for YOUR business needs.
Advantages of using pallet collars
Trustworthy solution for your items during the storage and delivery. Product that combines simplicity, sustainability and cost optimization.
Space optimization
Compact solution
Folded pallet collars are the most compact type of wooden packaging, saving 87% of space when storing and transporting empty packaging.
Reusable packaging
Use for up to 10 years
The possibility of replacing individual parts of the collar makes this type of packaging solution maintainable. One pallet collar can be used more than 10 years.
Protection during transportation
Safe packaging
Wooden packaging consisting of a pallet collar, a pallet, and a lid can withstand high loads (more than 6 tons). It ensures the protection and security of the cargo.
Unique warehouse solution
Multi-level storage
Pallet collars combined with accessories create a multi-level storage systems in the warehouse. Other accessories make it easy to access and mark items.
Production accuracy
High quality
We guarantee consistently high product quality from batch to batch thanks to automatic sorting, cross-cutting and assembly lines.
Nature friendly product
Sustainable packaging
We guarantee consistently high product quality from batch to batch thanks to automatic sorting, cross-cutting and assembly lines.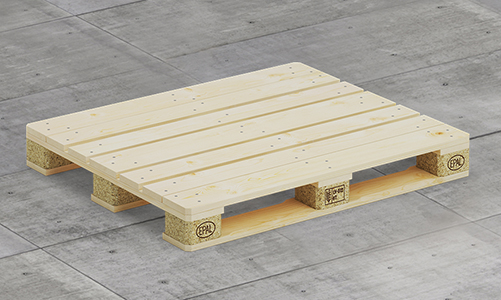 Wooden pallets
Pallets are a stable base for transporting products and a safe solution for long-term storage. KRONUS offers – EPAL, one-way, customised – pallets in standard sizes as well as developed for individual solutions that are appropriate for your product. We guarantee constant product quality!

Quality standarts
The highest product quality and international certificates.
Global delivery
Clients from more than 60 countries of the world trust us.
Customer support
Professional service throughout the cooperation period.
Industry expert
For over 25 years effectively operating on the international market.
SOLUTIONS FOR YOUR BUSINESS
KRONUS is an emerging global leader in the manufacture, sale, and development of wooden packaging. Our ultimate goal is to create products and services, which are valuable for our customers all over the world.
We are proud that our experience allows us to provide our customers with the most efficient solutions specifically catered to their requirements and business objectives. Improve your processes – choose KRONUS!
Interested in our business solutions?
We are here to help you solve any pain point your company experiences during regular business operations. Contact us and get a free consultation by KRONUS packaging experts.