PALLET COLLARS
Wooden pallet collars are a convenient and environmentally friendly packaging solution for any industry, which provides product protection and increases storage capacity.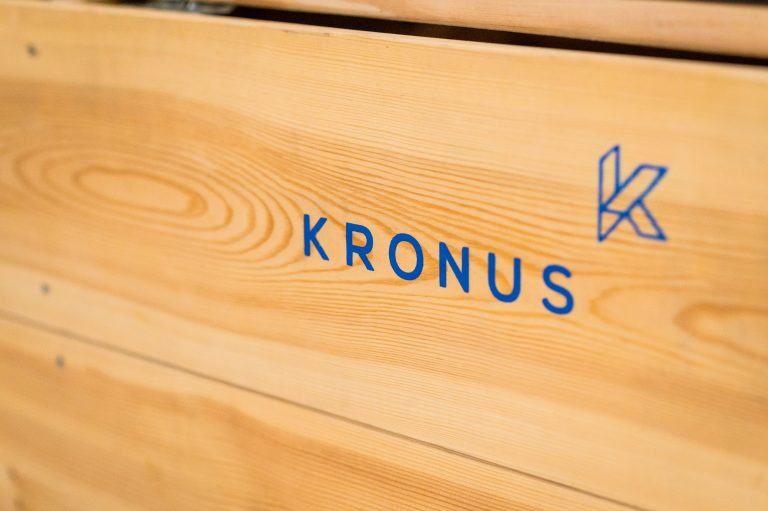 CUSTOMISED PRODUCTS
KRONUS offers to create pallet collars according to individual requirements, so that the packaging is 100% adapted to the needs of the customer. Product quality and sustainability features are maintained during the customisation process.
Advantages of using Pallet Collars
Trustworthy solution for your items during storage and delivery. Product that combines simplicity, sustainability and cost optimisation.
Space optimization
Compact solution
Folded pallet collars are the most compact type of wooden packaging, saving 87% of space when storing and transporting empty packaging. When folded, one pack of collars contains 108 units of product.
Reusable packaging
Use for up to 10 years
The possibility of replacing individual parts of the collar makes this type of packaging solution maintainable. One pallet collar can be used for more than 10 years.
Protection during transportation
Safe packaging
Wooden packaging consisting of a pallet collar, a pallet, and a lid can withstand high loads due to lateral and vertical pressure. This structure ensures the protection as well as security of the cargo.
Unique warehouse solution
Multi-level storage
The structure consisting of pallet collars with accessories is a unique solution for systems of multi-level storage of goods in the warehouse. Other accessories make it easy to access and mark items.
Production accuracy
High quality
We guarantee consistently high product quality from batch to batch. Automated equipment allows one to achieve the highest product quality. You will not have to be concerned about the product's suitability for your goods.
Nature friendly product
Sustainable packaging
Wooden packaging means that it can be disposed without harming the environment, unlike plastic or metal packaging. Achieve significant savings by reducing the amount of rubbish and waste to be disposed of.
PACKAGING AND DELIVERY ORGANISATION
KRONUS also provides clients with a range of services regarding the selection of the most optimal packaging solution for their goods, transportation and packaging turnover. We think over the logistics of the packaging solution, which is necessary for the client, down to the smallest detail.
Buy & Sell back
We repurchase used packaging – to clients who acquire our packaging solution but do not intend to use it in the future. As a result, the customer may regain a part of the funds spent for the packaging, free up warehouse space, and eliminate their concerns about the storage and disposal of used packaging.
Closed loop
We take care of your wooden packaging at every level, including quality manufacturing, timely delivery, return, repair of broken packaging, and trash disposal. Because of the package turnover, these services allow the client to save money.
Delivery
We offer delivery options that are suitable regardless of the order quantity, delivery volume or distance. We can deliver our product regardless of the industry and location you represent.