OVERVIEW OF THE LOGOTYPE AND ITS VERSIONS
Company logotype is always crucial to success in marketing, because it makes a powerful statement about the corporate style and the very character of the company. It is prominently displayed on all letterheads and documents, whether printed or digital content, and on company products. Kronus trademark consists of the company name, its graphic symbol, and the company slogan. Below are all of the logotype versions in downloadable formats.
LOGO ANATOMY WITHIN THE GRID
The company logo is constructed within a particular grid, as displayed in the image below. The unit of one square is used in the grid to define the proportion between elements of the logo. For example, there is a space of one square between the name and the slogan, while the slogan itself is 2/3 squares high.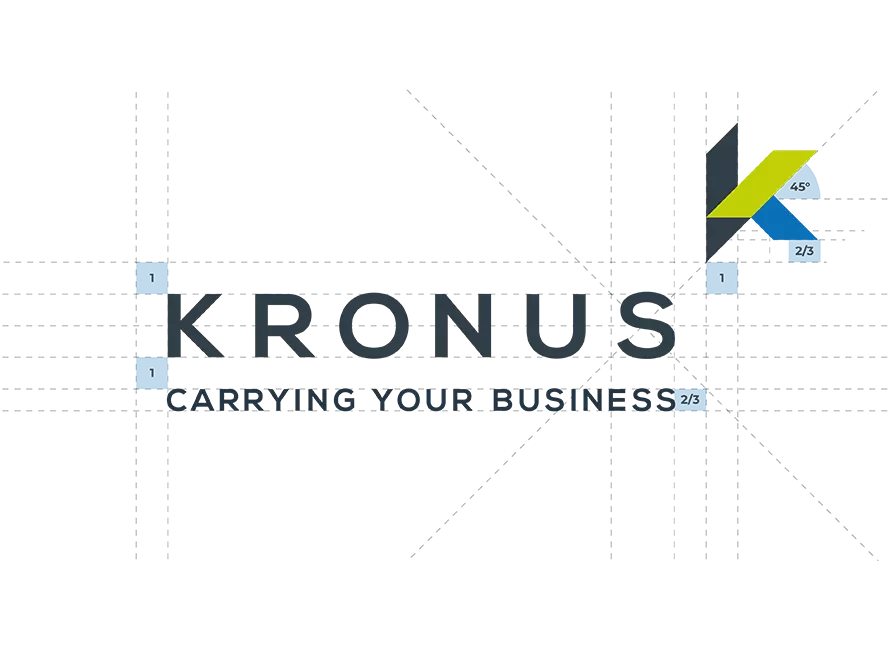 LOGO POSITIONING
There are certain rules regarding positioning the Kronus logo. The only two valid options are either upper centered or upper right alignment. In both cases, the graphical symbol is ignored – the logo and all other elements align by the end of the letter S.
UPPER RIGHT
The logo sits in the upper right corner on most printed materials, online content, corporate promo gifts, etc.
CENTERED
In some rare cases, when there is little content other than the logo, it aligns centered.
EXAMPLES OF INCORRECT POSITIONING
Any other positioning other than upper right or centered should be avoided. The image displays several examples of unacceptable logo positioning. The primary rules when positioning the Kronus logo are as follows:
Never rotate the trademark;
Never position the logo in any corner other than the upper right corner;
If centered, the logo should still be at the top;
Preserve the correct scale when positioning the logo.
USAGE OF LOGO ON DIFFERENT BACKGROUNDS
Using photo backgrounds helps to convey a clear message without resorting to writing a particular text. But we must always keep in mind that the logo should be used correctly. Below are some examples of correct and incorrect usage.
ACCEPTABLE LOGO USAGE
Make sure to keep the appropriate contrast between the logo and the background photo. It is advisable to use white logo on darker backgrounds, and dark logo on lighter ones. If the photo has a flat light spot, then a colored logo must be used.
UNACCEPTABLE LOGO USAGE
Avoid using colored logo on motley backgrounds. Do not rotate the logo. Avoid using photos with colors that mix and / or blur with the logo.
THE COMPANY SLOGAN AND ITS VARIATIONS
CARRYING YOUR BUSINESS
Kronus slogan "Carrying your business" is effectively a play on words. Kronus metaphorically carries forward its clients' business, solving their logistics and packaging problems, while Kronus' pallets literally and physically carry clients' goods around the world.
SLOGAN VARIATIONS
Kronus' slogan may change on different occasions, suggesting that something other than business can be carried forward. The last word of the slogan may change, yet the opening words "carrying your…" must always be there.